Ambassador Tom Boyatt
receives American Foreign Service Association's highest award for Lifetime Contributions to American Diplomacy
AFSA Presents its Highest Award to
Ambassador Thomas D. Boyatt on June 19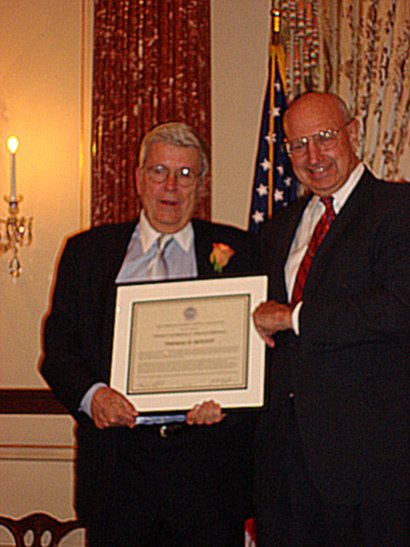 Ambassador Thomas R. Pickering will present AFSA's highest award – for Lifetime Contributions to American Diplomacy – to Ambassador Thomas D. Boyatt at the annual American Foreign Service Association awards ceremony, which will take place in the Benjamin Franklin Diplomatic Reception Room of the Department of State at 4:00 pm on Thursday, June 19, 2008. AFSA President John Naland will preside over the event and also offer remarks on the significance of these awards.
AFSA will honor Foreign Service Officers and Specialists who have demonstrated extraordinary accomplishments and professionalism involving initiative, integrity, and intellectual courage in the context of constructive dissent:
AFSA Post Representative of the Year -- JULIE A. EADEH (Baghdad)
Awards for Exemplary Performance:
Avis Bohlen Award -- VICTOR D. WILLIAMS
M. Juanita Guess Award – CRAIG DOUGLAS GERARD
Delavan Award – VIRGINIA M. GREGORY
Constructive Dissent Awards:
W. Averell Harriman Award – LUKE V. ZAHNER
William R. Rivkin Award – RACHEL SCHNELLER
Christian Herter Award – AMBASSADOR JEFFREY FELTMAN
Lifetime Contributions to American Diplomacy – AMBASSADOR THOMAS D. BOYATT
Director General Harry Thomas will introduce Ambassador Pickering
Award Citation for Thomas D. Boyatt
Lifetime Contributions to American Diplomacy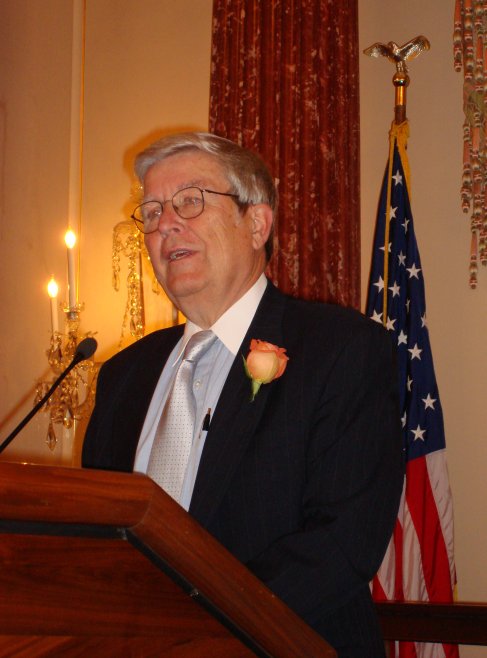 Presented annually to honor individuals who have spent a lifetime advancing American diplomacy. Past recipients are U. Alexis Johnson, Frank Carlucci, George H. W. Bush, Lawrence Eagleburger, Cyrus Vance, David Newsom, Lee Hamilton, Thomas Pickering, George Shultz, Richard Parker, Richard Lugar, Morton Abramowitz, Joan Clark.
AMASSADOR THOMAS D. BOYATT
Presented by Ambassador Thomas Pickering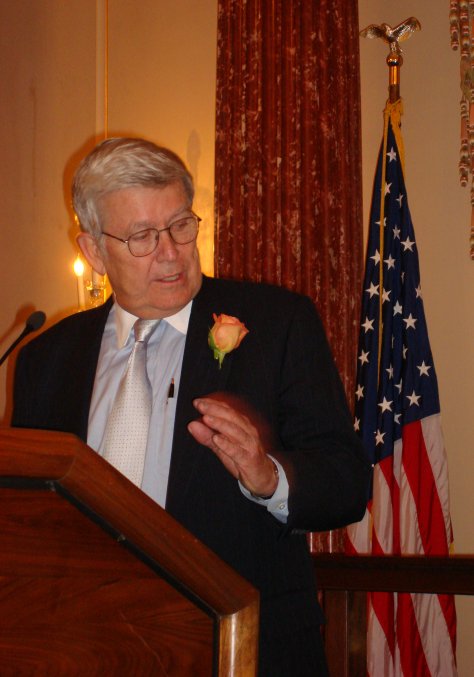 Introduced by Director General Harry K. Thomas, Jr.
Ambassador Thomas D. Boyatt has devoted his life to strengthening the U.S. Foreign Service and the American Foreign Service Association. During his distinguished 26-year career in the Foreign Service, he served as ambassador to Cyprus and Colombia and received a Meritorious Honor Award in 1969 for heroism during the hijacking of a TWA plane. Amb. Boyatt also earned both the William R. Rivkin and Christian A. Herter Awards for Constructive Dissent and served as a president of AFSA.
Since his retirement from the Foreign Service in 1985 with the rank of career minister, Amb. Boyatt has continued to devote countless hours of tireless work to AFSA (serving as treasurer and Finance Committee chair), as well as to the Una Chapman Cox Foundation, DACOR, the Association for Diplomatic Studies and Training, and the American Academy of Diplomacy. He has established two institutions to enhance the influence of the Foreign Service: the Foreign Affairs Council, a coalition of 11 organizations that publishes a biennial assessment of the Secretary of State's management and leadership, and AFSA-PAC, a political action committee that promotes AFSA's legislative agenda. He is currently heading a project to document the need for additional funding for the foreign affairs agencies.
For his vision, strong leadership and continued championship of the Foreign Service, AFSA is proud to honor Ambassador Thomas D. Boyatt.